Support Beit Midrash Har'el
Help us
to Transform
Rabbinic Training
At a time when more extremist voices are carrying the day, Beit Midrash Har'el endeavors to create space for an alternative approach to religious life that honors our tradition and Halacha while grappling with modernity's thorny issues forthrightly and with sensitivity.
To deliver on the mission of Beit Midrash Har'el and move closer to achieving our vision of offering a more compelling approach to religious values and halacha to the Jewish people and the world, we need to grow the organization's budget by $250,000 next year.
We welcome partners
and investors in our work.
Rabbinic Fellowships Program
We are now on track to continue significant growth in the Beit Midrash Rabbinic Fellowship. This next academic year, we will have another cohort of Fellows and need to expand our capacity in terms of Fellowship stipends, faculty, and classroom resources.
The more students and alumni we have, the more we are able to broaden our impact in the religious and broader world.

The Collaborative Seminar for the Study of the Jewish Interpretive Tradition is a unique effort to explore approaches to evolve Jewish tradition in an authentic way, bringing together a cadre of impressive Torah/Halachic scholars and thinkers.

 To enable the kind of paradigm shift in religious thinking we believe is required, we need to engage a broader audience in this process, specifically soliciting feedback and socializing ideas among a larger circle of thinkers, Rabbis, and educators.

To do this requires more scaffolding in terms of managing and leveraging this "think tank" including focused facilitation and expanded communications capacity.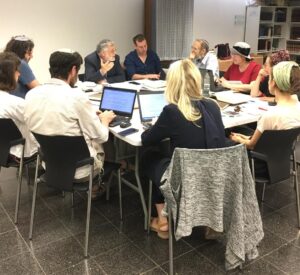 More resources need to be devoted to translating and packaging the ideas and insights that develop across numerous channels and platforms in a strategic way, including media, curricula, shiurim, and other publications/communications. Your support makes this possible.
We welcome contributors to Beit Midrash Har'el at any level. For more information, contact Sharon Laufer, [email protected] or donate here.
OPPORTUNITIES TO SUPPORT beit midrash har'el
Your support will enable us to train the next generation of community leaders and develop a new paradigm for religious Jewish life.